RSI LICENSE
RSI License is for you if:
| | |
| --- | --- |
| | You have HP NonStop products |
| | You want to protect them from unlicensed use |
| | You do not have the time or cryptographic know how to protect them |
SUMMARY.
The RSI LICENSE Product is a set of HP NonStopTM programs and libraries that provide a simple, easy to use, flexible and effective method of setting up a program licensing environment, enabling program licensing control, issuing licenses, in the form of encrypted files, and maintaining those licenses over multiple HP NonStop Systems over time.
RSI LICENSE is designed as a hierarchical licensing system in which Ross Systems International can grant licenses to licensors who can then grant licenses to their product users.
<![if !vml]>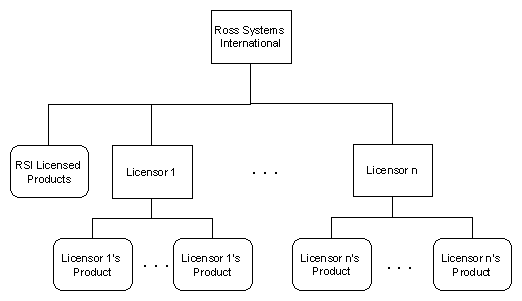 <![endif]>
It is designed in such a way that no licensor can grant licenses for any other licensors product including Ross Systems International. This is achieved by a combination of a secret key / password system both components of which are only known to the licensor. Since after licensing a licensor the first action of the licensor will be to change the password.
CAPABILITIES
RSI LICENSE enables its users to:
Issue User Licenses for a Product by:
a) Product Type
b) System Name
c) System Number
d) CPU Type
e) CPU Count
f) License Period

Control Product behaviour on License Infringement over the range of:
a) Disable Product
b) Warn of Infringement and Lockout after a maximum number of infringements.
c) Warn of Infringement No Lockout.

Maintain Licensed set of products, i.e. Add or remove products and product descriptions.

View licenses and maintain license files including the ability to set run times and week-days.
BENEFITS
| | |
| --- | --- |
| | The licenses issued are very secure. |
| | It is very easy to modify the licensing system for a new program or program group |
| | Licensing Libraries exist for C, C++, TAL, pTAL and COBOL programs. |
| | It is very easy to add licensing to a program |
| | You can wild card a program to operate with any of your licenses. |
| | Issuing licenses with LICENSE is secure, simple and flexible. |
| | Multiple Systems Can be licensed in one license file. |
| | Optional wild cards in the license file enable you to determine how the licenses operate. |
| | You can determine what happens when a license is infringed. |
| | Infringement reporting on EMS log and home terminal. |
| | It is very easy to maintain license files using the VIEWLICE utility |
COMPONENTS
<![if !vml]>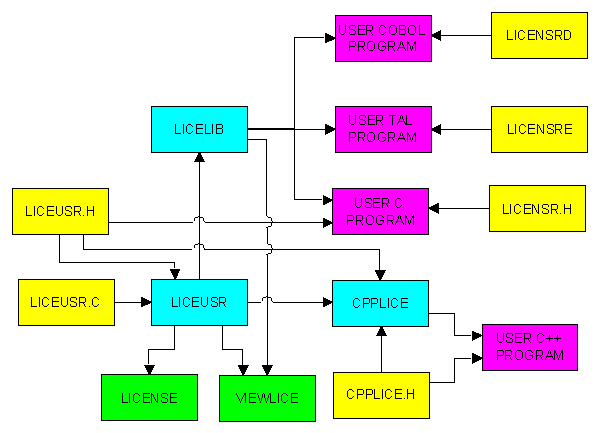 <![endif]>
Colour Description Components
Green Licensing Programs LICENSE, VIEWLICE
Blue License Libraries LICEUSR, LICELIB, CPPLICE
Yellow Source and header files LICEUSR.H, LICEUSR.C, LICENSR.H,
LICENSRE, LICENSRD
Purple Licensed User Programs C++, COBOL and TAL
Descriptions:
1. LICENSE License Issuing Program
2. VIEWLICE License Viewer and User Maintenance Program
3. LICEUSR User License Library, contains product codes & other user dependant data
4. LICELIB License Library Routines
5. CPPLICE C++ Licensing Routines
6. LICEUSR.C Licensor User License Library Source
7. LICEUSR.H Licensor User License Library Header File
8. LICENSR.H C Licensing Routines Header File
9. CPPLICE.H C Licensing Routines Header File
10. LICENSRE TAL Licensing Routines External Reference File
11. LICENSRD COBOL Licensing Routines Include File
Note. VIEWLICE is shared in common with several other Ross Systems International Products.
A license to use VIEWLICE does not imply a license for the RSI LICENSE Suite.
BITUG Presentation 9th April 2008, Download